Navigating which method to use in dealing with bullying behaviour
The last 9 posts have outlined separate ways of responding to bullying behaviour. Each have strengths and weaknesses and times when they should and should not be used. It is hard to work out which path to go down so to help solve this I have developed the ROBB model.
ROBB stands for Response Options for Bullying Behaviour and can be summarised in the following diagram.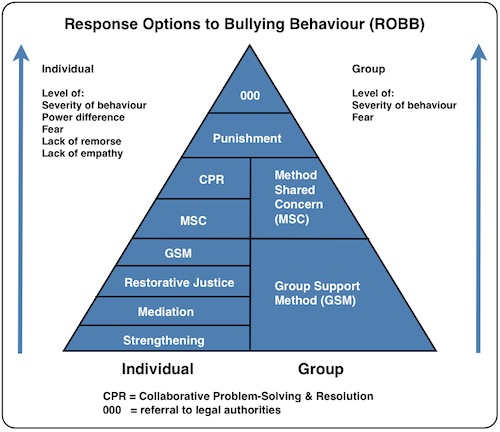 There are 2 key points: 1) using different responses for individual behaviour verses group behaviour and 2) the higher the level of severity of 5 separate indicators suggests using more involved responses.
You can read more about ROBB by clicking on the image in the reader below. (
Click here to read in your web browser
if your mobile device cannot see the image.)