New bullying behaviour book due out soon
Sorry for the lack of posts recently. This has been due to devoting a lot of attention to the new book which is due out soon.
Intervening In Bullying Behaviour: Nine Ways to Take Direct Action
is in the final stages of production and should be on sale by the end of September.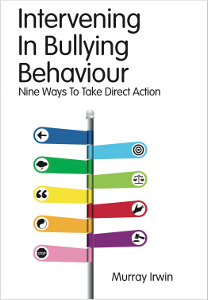 From the back cover:
Bullying behaviour in the workplace, sports clubs, schools and elsewhere is common and can harm the physical and mental health of those targeted by it. If you are dealing with this type of behaviour, it is a major challenge to find and use successful ways to intervene.
Intervening in bullying behaviour: Nine Ways to Take Direct Action
identifies ways to intervene whether you have witnessed the bullying or it has been reported to you. This practical guide contains nine different approaches:
1. Direct response
2. Strengthening the target
3. Mediation
4. Restorative justice
5. Collaborative problem-solving and resolution
6. Support group method
7. Method of shared concern
8. Punishment
9. Referral to authorities
Each approach description covers how it is applied, the aim, and relevant theory, along with its strengths and weaknesses. Bullying behaviour situations vary, so the same approach is never going to be suitable or successful all the time. The Response Options to Bullying Behaviour (ROBB) model helps you to compare and understand the strengths and weaknesses of each approach so you can choose the best option for each situation.
It will be available from Amazon in both printed and ebook formats. More information will be available on the book website soon at
www.bullyingbehaviour.com